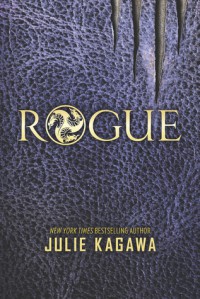 Rogue pleasantly surprised me. I was really disappointed by the first book and almost wasn't going to read the second one. But I ended up snagging the audio book at my library and am glad I did. Things really picked up and the dragons appeared more. Still a lot of romance but I was okay with it since I was expecting it this time around.
Ember and Riley have gone rogue against Talon. And when you're rogue they want you dead. But now Garrett is kidnapped by his own kind, St. George and Ember will do anything she can to save him. Even if she has to risk breaking into the compound of those who will do anything they can to hurt her kind. She never expected to fall in love with a soldier and she never thought her family would betray her.
I really did love this. The narrator wasn't my favorite but the plot is full of action, some fighting dragons and a whirlwind of an adventure running from both Talon and St. George.
And of course there is going to be anther one which seems like we're really going to get into what exactly Talon and St. George are up to. I will say I didn't really care for the triangle but I definitely ship Ember with the human, Garrett. Looks like I'm into another series and looking forward to reading what happens next!