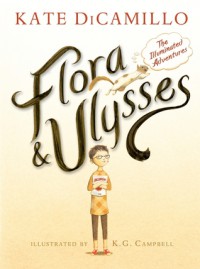 Though, I get through them extremely quickly, (this one not even taking me two hours) I'm really enjoying middle grade books. Kate DiCamillo has a way with words and creating a rather brilliant storyline, though, I must say I enjoyed this book much more than The Tale of Despereaux.
Young, Flora Belle (though we aren't told her age), is a cynic.
"Do not hope, but observe."
She tells herself when things might turn out happy. Ulysses, the new vacuum cleaner is what changes everything. When the neighbor almost kills a mouse with it, Flora saves the mouses life and names it, Ulysses. Ulysses, however, has superhero powers, typing, flying, super strength, and more he has an arch nemesis, Flora's mother.
Filled with wonderful teaching moments and great characters, DiCamillo has created the perfect book to use in any middle grade classroom and one that is very worthy of The Newbery Honor.