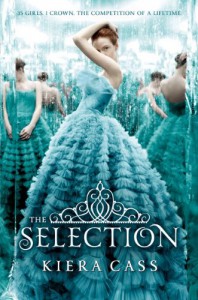 The Selection is the bachelor/Princess Diaries meets Hunger Games. For the most part I really enjoyed it. This book has a strong female character, enjoyable side characters and an overall fun plot. But still, it left me feeling disappointing. Mainly because it has such a poor ending.
The Selection, thirty four girls prepare to do anything they can to become the next princess to Prince Maxon. 16 year old America Singer never wanted to be a part of the selection but after a bargain with her mom and the love of her life begging her to join she has no choice. When she meets Maxon she never thought she'd fall for him or want to be the princess. What choice does she have now?
The plot and ideas behind this book are pretty cool. Instead of factions like the Hunger Games people are graded by numbers. The higher the number the poorer you are and the hungrier. I for one would have liked to see more of the rebels and the Dystopian side instead of the arguments between the girls and who goes on next.
Maxon is a fun character to read about and easy to fall in love with. As is America. She's not like the other girls and doesn't want to be treated like them. I didn't care so much for her old boyfriend, Aspen and feel like the story didn't progress well with him.
Why disappointed? Without spoiling anything the ending is boring. Nothing is resolved and nothing really happens. Yes, I'll read more because I liked most of the characters so much. But with such a bland ending its hard to be enthusiastic about this one.