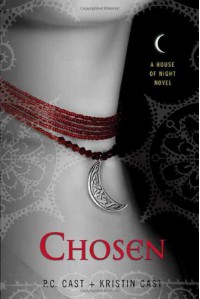 I think I'm done listening to this series. I thought the first two were okay, the second one being the better one. But Chosen was so frustrating to listen to. Zoe is possibly the dumbest and most naive character I've read about in YA literature yet. In the end, she at least admitted to how dumb she had been the entire book.
Zoe's life is becoming more secretive by the minute. She has not one but three boyfriends between Loren, Eric and Heath - including an imprint on Heath. She hasn't told her friends about the undead dead and that the fact Stevie Ray is one of them. And not to mention Neferet is actually an evil witch not a high priestess.
Sigh, the biggest issue I have with this series is that fact that it has already been three books and only maybe three months have gone by? Not necessary. And again, I can't say much without spoiling the ending (though it is extremely predictable) Zoe is dumb.
I get that some may enjoy this series. You certainly do not have to think much while reading it. Unfortunately its not for me and I don't think I'm going to waste my time reading the rest.