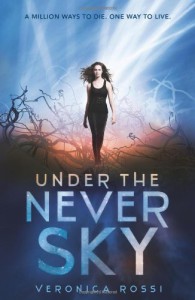 If you read my reviews then you know I love the whole Dystopian thing in the young adult genre. However, Under The Never Sky just didn't do it for me. It took me quite some time to get through it, mainly because I was bored up until the very end.
Aria is banned from her home in the Reverie (where people live in pods to escape deathly Aether storms) after being accused wrongly. She finds herself in what they call the Death Shop - wasteland where the savage outsiders live.
Peregrine is an outsider with special powers. He's savage, a hunter, and fighting to be leader of their group. When one of their own is taken by the Dwellers (those who live in Reverie) its up to him to find them.
The two must work together to get what they need. An unlikely pair forced to bond and get over each others differences.
The romance is slow-burning but does, of course eventually happen. I think that's what bothered me. These two are complete opposites and hate each other one day and the next fall in love - even though it takes most of the book to do so.
There are a lot of bizarre words throughout that took me a while to get the gist of, I actually kept thinking this was a sequel.
The characters for me were fairly boring until the romance steamed up. Though, I did find the background characters more likable than Aria and Perry.
I am interested enough in reading the rest of the series for I have a feeling we'll see more of Reverie instead of just the Death Shop. Maybe with the added romance the characters will be more enjoyable as well.