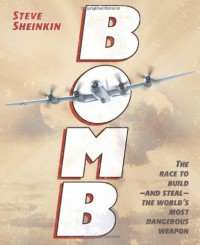 This was a really fun read and I'm quite impressed with how easy it was to breeze through..for a nonfiction. I'll definitely be checking out more books by Steve Sheinkin. It is classified as a young adult (though I'm not really quite sure what makes a nonfiction young adult...besides maybe simplified writing). I do think any age would enjoy this.
It all started when physicists and scientists figured out they could create a chain reaction from atoms. Scientist, Leslie Groves then knew the United States had to race to create an atom bomb in order to defeat Hitler and win WWII. What enfolds into discreet locations, spies and mysteries, the world is racing to be the first to make history and create one of the deadliest weapons continually nicknamed The Manhattan Project.
You should know that I am terrible at history and still enjoyed this one. I even read a lot of WWII, holocaust stories but never really knew a whole lot about the atomic bomb and The Manhattan Project. Sheinkin makes you think and wonder at how involved physicists were with the end of WWII. The biggest thing I think about after reading this book is would Roosevelt have chosen to bomb Hiroshima if he had still been alive?
Definitely a good read for those wanting to better understand what happened during The Manhattan Project. Its clear the author has done his research and best of all, it reads like a fast paced action book.